---
Alliance, Nebraska Picnic
An annual event in which residents, former residents, and friends assemble for food and fellowship
This document was last updated on 27 October 2002. (Ver. 1.2.1)

---
The 2001 Alliance Picnic was a huge success!
We hope you can join us in 2002. Check here for updates on this year's big event.
Details of the most recent Alliance Picnic
Date : Sunday, 28 October 2001
Time : 1:30 P.M. Central Time
Location : Historic Eastlake Manor, 720 South 16th Street, Lincoln NE
(across from the State Capitol). Why is the Alliance Picnic held in Lincoln?
Come to the Picnic and find out why!
What to bring :
Everyone : Table Service (disposable eating utensils, plates, cups), your
favorite "hot dish" (< a link to PHC 09 October 1999 Hot Dish
references, with text and RealAudio browser plug-in versions)
By last name :
A - M bring salad
N - Z bring desert


Hosts : We didn't really have any hosts in 2001.

Other comments : Bring your Alliance Trivia questions/answers; old
Yearbooks, photos, etc. to share with friends. Donations to pay for
coffee, fruit drinks, cups, napkins, publicity, etc. are greatly appreciated!
---
Previous Picnics
Donna and Bob Culwell were our hosts in 1998. The Picnic took place at Lincoln's Historic Eastlake Manor. About 40 former Alliance residents attended, including Edna Chamberlain and Florence Lepard. Marie Nelson was the only current resident of Alliance to attend. Don Gill asked trivia questions from the Alliance Main Street brochure.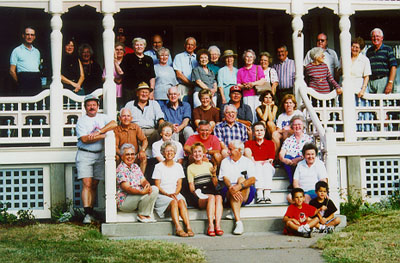 ---
Neat and groovy info related to the annual Alliance Picnic will appear here from time to time. For further information, contact the maker of this document or this year's hosts.

---
newspaper
or The Ledger, Hemingford NE.
---